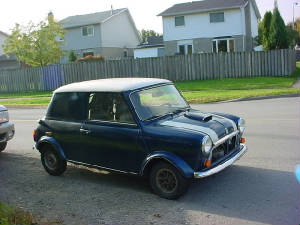 this was when i was bringing it home
I own a 1976 mini 1000 canadian spec. but when i found it, the mini was modified and was sitting in a garage for about twenty years. The modifications was the rear seat was cut out, it has twin fuel fillers but the both fillers go into a single vw bug gas tank. The boot was shaved and the side-rear windows were also shaved. The interior was gutted and and a rollcage was put in the only interior parts that was left in it was two front seat and a steering wheel!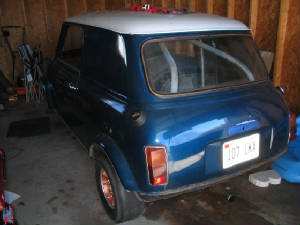 notice the lack of windows and boot
My mini had the standard 998cc motor still in it when i bought it. The only mods i found were a Nikki downdraft carb and alloy intake and a original cooper header with a Peco exhaust. After a oil change and a change of plugs and wires and gas. she was running again but it didn't last too long... i had a problem with the head. No worries though i was planning on pulling the motor and replacing it with something with a little more power....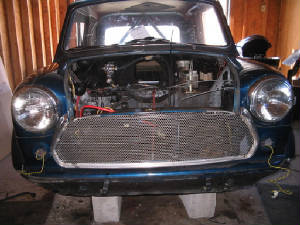 stainless grill i made while waiting for my motor to be done
While i was waiting for my motor and tranny to be built, i yanked out every single wire out of the car since the wiring was already a huge mess. Instead if ordering a new harness which i would have to modifiy....i just made my own harness using a wiring diagram (see tech page).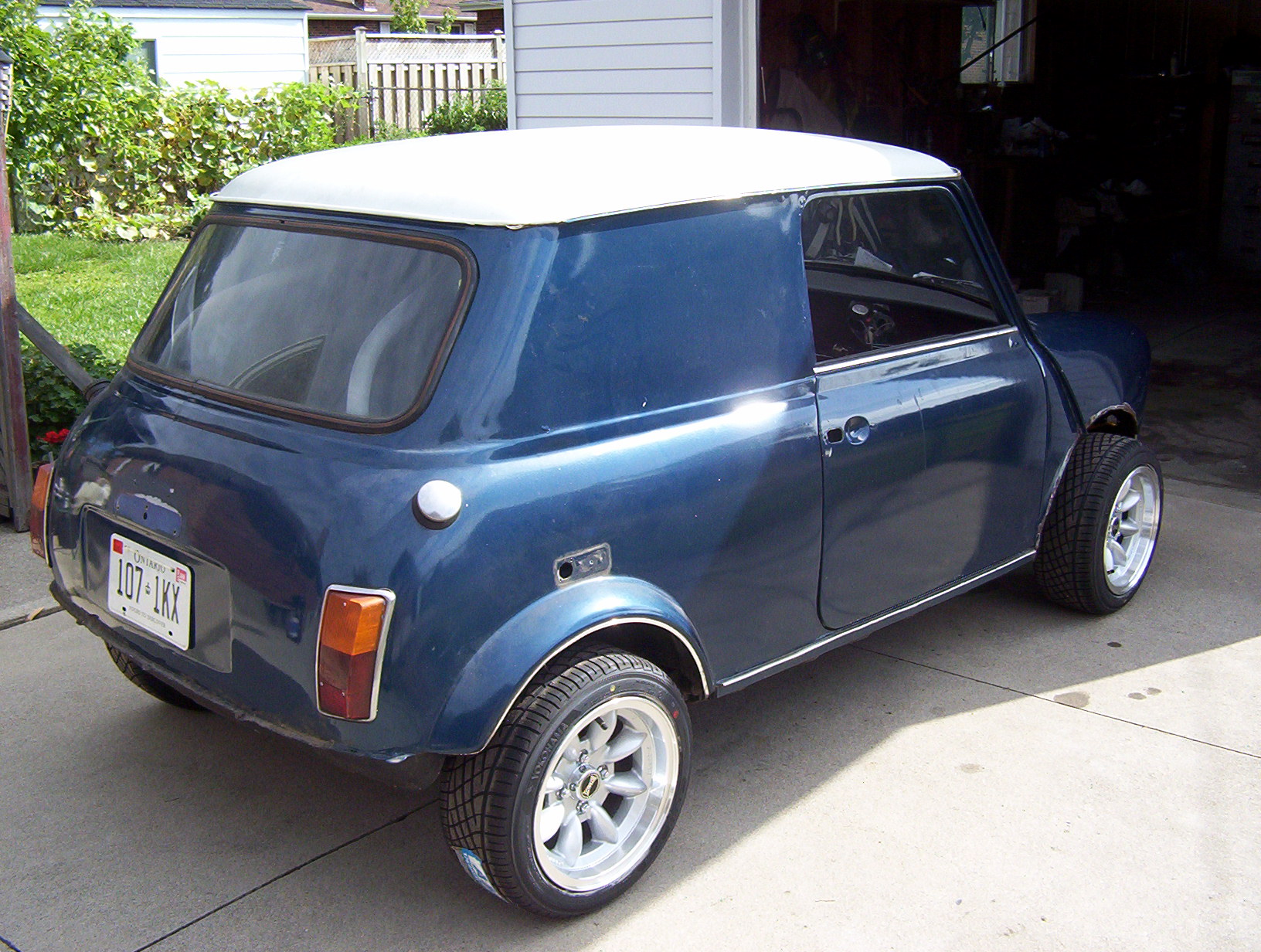 my new wheels!
Got the Honda front disc brakes on and run some new brake lines. I also picked up some new wheels for my mini (sweet!). Since i didn't have the keys for the doors i figured i'd shave the handles off. My new motor and tranny is finally done! I went with a 1310 A+ balanced and blueprinted motor topped with a ported & polished head, Kent 276 cam, etc.....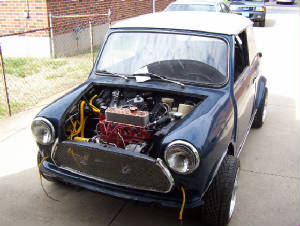 During the winter months I made the functional Ram Air Hood for my mini. I was able to get my hands on a Zeemax body kit and it was blended in to the body. The rollcage that was in the mini was o.k. (it looked homemade) and i wanted a better one. I had Paul from BreadBox Racing fab up a custom one and we also installed the Honda racing seats,shaved the door handles (installed remote door poppers) and deseamed the rest of the car. After the bodywork was done we sprayed it flat black.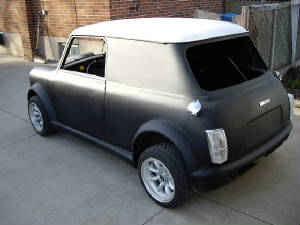 Zeemax'd and flat black
Got it on the road and spent some time breaking it in and working out the bugs. Went to a couple shows and really started to enjoy mini ownership! I started to focus on improving the ignition system from the standard points to adding a 123 dizzy with a MSD race coil and ignition box. The improvement was like night and day!!